A coastal town with a unique pebble beach, frequented by travelers for its good windsurfing, some cultural sites, and many restaurants.
Bol is renowned for its most popular beach, the Zlatni Rat ("Golden cape) is a promontory, composed mostly of pebble rock that visibly shifts with the tidal movement, a unique sight. The sea at Zlatni Rat and, indeed, the entire area is quite crystalline due to the strong current of the strait it is situated in. On a still day the stones on the sea-floor that are 30 feet down look only an arm's length away, and there are spectacular pine trees that grow down the middle of Zlatni Rat. Bol itself is a very popular tourist destination and has a number of harbourside bars and restaurants. Bol is a popular place in the Adriatic Sea, known for good wind surfing conditions.
Continue reading...
From Wikipedia, the free encyclopedia
Plan your perfect trip to Croatia!
Easily create an itinerary based on your preferences: Where to visit? For how long? What to do there?
Plan your trip
Top destinations in the Split-Dalmatia region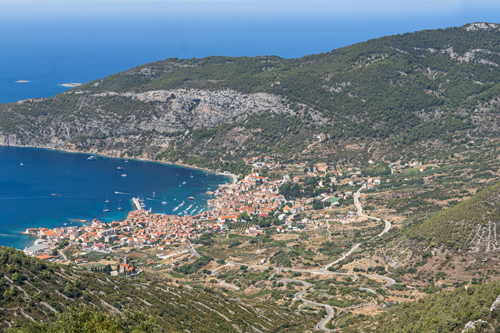 Vis