A beautiful resort, this vibrant city is home to stunning architecture, picturesque beaches, and an array of historic monuments.
Hvar's location at the center of the Adriatic sailing routes has long made this island an important base for commanding. It has been inhabited since prehistoric times, originally by a Neolithic people whose distinctive pottery gave rise to the term Hvar culture, and later by the Illyrians. The ancient Greeks founded the colony of Pharos in 384 BC on the site of today's Stari Grad, making it one of the oldest towns in Europe. They were also responsible for setting out the agricultural field divisions of the Stari Grad Plain, a UNESCO World Heritage Site. Prosperity brought culture and the arts, with one of the first public theatres in Europe, nobles' palaces and many fine communal buildings.
Continue reading...
From Wikipedia, the free encyclopedia
Plan your perfect trip to Croatia!
Easily create an itinerary based on your preferences: Where to visit? For how long? What to do there?
Plan your trip
Top destinations in the Split-Dalmatia region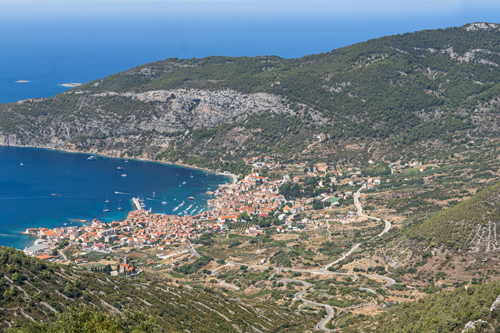 Vis