Located on the island of Hvar, Jelsa is known for its natural beauty including beaches, vineyards, and olive groves.
Founded as the port for the community of Pitve, Jelsa grew in importance over the centuries. During the 19C, it was one of the most significant maritime, shipbuilding and trade centers of the Adriatic, a starting point for a fleet of ocean-going sailing vessels carrying best wines of Hvar, olive oil and salted fish. The wine industry was nearly destroyed by phylloxera in the latter half of the 19C. Modern Jelsa is a bustling town, with many small businesses. It is an important tourist center, with regular passenger catamaran services to Split. Tourism "officially" began in 1868, though it has been practiced as far back as ancient Roman times. The oldest hotel in Jelsa dates to 1911.
Continue reading...
From Wikipedia, the free encyclopedia
Plan your perfect trip to Croatia!
Easily create an itinerary based on your preferences: Where to visit? For how long? What to do there?
Plan your trip
Top destinations in the Split-Dalmatia region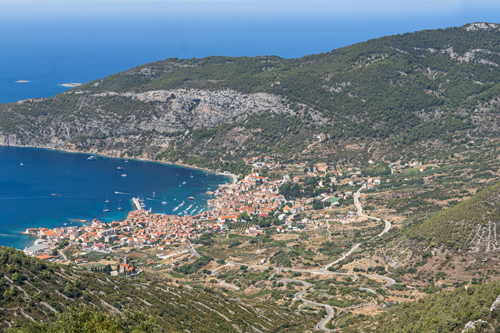 Vis