Nature
Active
Beaches
Small Towns
A picturesque cliff-side village, surrounded with lush natural landscape and featuring several interesting churches.
The town is situated approximately 16 miles south-east of Croatia's second largest city, Split. Its location is where the emerald-green Cetina River meets the Adriatic Sea The Omiš Riviera stretches for 12 miles along a coast of exceptional beauty, with many perfect pebble, sandy beaches, bays, steep cliffs and a crystal clear sea. The Cetina River is a great place for those who like active holidays (white water rafting, canoeing and kayaking). Recreational activities, in Omiš, also include: free climbing, cycling, tennis, football (soccer), basketball, 9-pin bowling, bocce, paragliding, beach volleyball, windsurfing, water-skiing, sea kayaking, waterpolo and scuba diving.
Continue reading...
From Wikipedia, the free encyclopedia
Plan your perfect trip to Croatia!
Easily create an itinerary based on your preferences: Where to visit? For how long? What to do there?
Plan your trip
Top destinations in the Split-Dalmatia region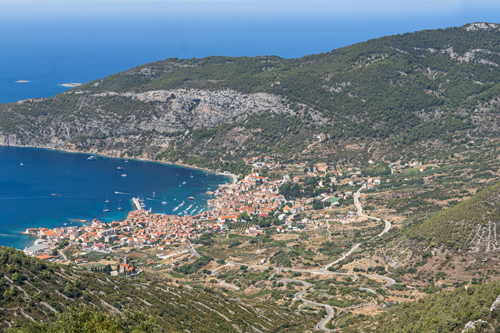 Vis