Known for its beautiful beaches, this fine resort also boasts olive groves, vineyards, rich local culture, and splendid architecture.
Situated in a bay, Sukosan has no sand beaches. The town itself offers nice walks through the traditional narrow alleys. Sukosan cherishes the old customs. They are linked to the feast of St. Kasijan, the patron saint of Sukosan (13 August). The Nights of Sukosan is another event offering entertainment. During the carnival season, "luzari", masques typical only of Sukosan, represent a special attraction. Due to its numerous restaurants and taverns, Sukosan is known as a place of drinking wine and singing. In Sukošan, there is a large variety of restaurants. Seafood, such as fried calamari and mussels, is one of the most common meals in the village.
Continue reading...
From Wikipedia, the free encyclopedia
Plan your perfect trip to Croatia!
Easily create an itinerary based on your preferences: Where to visit? For how long? What to do there?
Plan your trip
Top destinations in the Split-Dalmatia region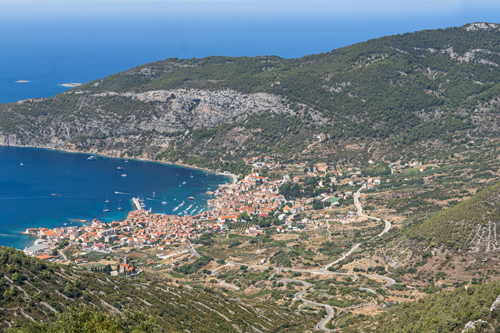 Vis