Nature
Small Towns
Beaches
Active
The largest town on the island of Brac, Supetar is home to several restaurants where visitors can enjoy authentic local cuisine.
The Parish church of St. Peter stands on the side of an old chapel which was restored in 1773 in a Baroque architectural style. At that time it also received a new aisle and bell tower. It was extended in 1887. In the church there are paintings by the local artist Feliks Tironi and an 18C Baroque altarpiece by an unknown Venetian artist. In the old part of the church there are gravestones with Croatian writing. On the left of the church building there is a sundial and beneath it a sarcophagus with the date 1774 engraved. Supetar graveyard beside the Chapel St. Nicholas there are two old Christian sarcophagi and several gravestones and the mausoleum of the Petrinović family.
Continue reading...
From Wikipedia, the free encyclopedia
Plan your perfect trip to Croatia!
Easily create an itinerary based on your preferences: Where to visit? For how long? What to do there?
Plan your trip
Top destinations in the Split-Dalmatia region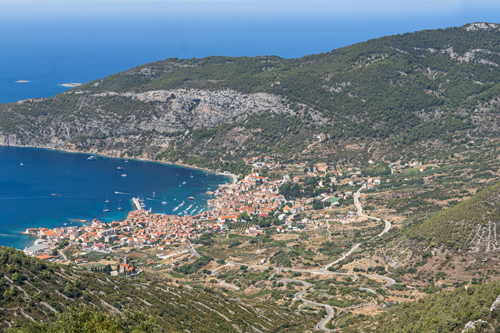 Vis