Situated on the shores of Lake Bracciano, this beautiful town is a popular summer vacation destination.
Bracciano is a small town in the Italian region of Lazio, 30 km (19 mi) northwest of Rome. The town is famous for its volcanic lake (Lago di Bracciano or "Sabatino", the eighth largest lake in Italy) and for a particularly well-preserved medieval castle Castello Orsini-Odescalchi. The lake is widely used for sailing and is popular with tourists; the castle has hosted a number of events, especially weddings of actors and singers. The town is served by an urban railway (Line FR3) which connects it with Rome (stations of Ostiense and Valle Aurelia) in about 55 minutes. Close to it lie the two medieval towns of Anguillara Sabazia and Trevignano Romano.
Continue reading...
From Wikipedia, the free encyclopedia
Plan your perfect trip to Italy!
Easily create an itinerary based on your preferences: Where to visit? For how long? What to do there?
Plan your trip
Top destinations in the Lazio region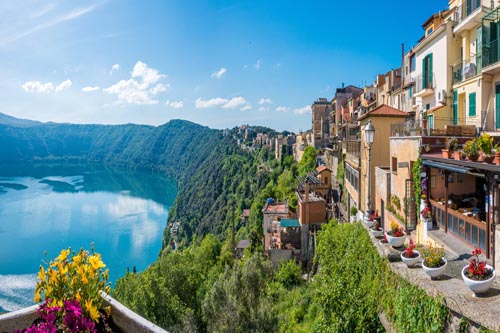 Rome