Set overlooking a picturesque lake, this small town is a well-known retreat, boasting several notable cultural monuments.
Castel Gandolfo is a town located 15 miles southeast of Rome in the Lazio region of Italy. Occupying a height on the Alban Hills overlooking Lake Albano, Castel Gandolfo has a population of approximately 8,834 residents and is considered one of Italy's most scenic towns. Within the town's boundaries lies the Apostolic Palace of Castel Gandolfo which served as a summer residence and vacation retreat for the pope. Castel Gandolfo has several places of archaeological interest including the Emissario del Lago Albano and the remains of the Villa of Domitian.
Continue reading...
From Wikipedia, the free encyclopedia
Plan your perfect trip to Italy!
Easily create an itinerary based on your preferences: Where to visit? For how long? What to do there?
Plan your trip
Top destinations in the Lazio region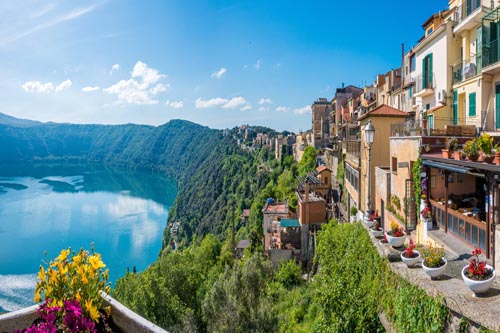 Rome