Home to beautiful beaches and a renowned archaeological museum, this coastal town is home to elegant boutiques, cafes, and restaurants.
Sperlonga is a coastal town in the province of Latina, halfway between Rome and Naples. It is best known for the ancient Roman sea grotto discovered in the grounds of the Villa of Tiberius containing the important and spectacular Sperlonga sculptures, which are displayed in a museum on the site. Sperlonga's main cultural attraction is the museum erected in the grounds of the former Villa of Tiberius showing the groups of sculpture found in the grotto celebrating the deeds of Odysseus. According to Tacitus and Suetonius, the roof of the grotto collapsed while Tiberius was dining, and Sejanus rushed to save Tiberius, for which Tiberius in gratitude promoted him, launching his rise to power.
Continue reading...
From Wikipedia, the free encyclopedia
Plan your perfect trip to Italy!
Easily create an itinerary based on your preferences: Where to visit? For how long? What to do there?
Plan your trip
Top destinations in the Lazio region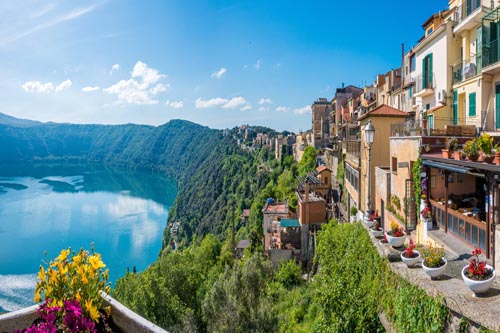 Rome