Scenically flanked by two hills, this charming town retains its medieval center and well-preserved architectural diversity.
Viterbo is an ancient city and commune in the Lazio region of central Italy, the capital of the province of Viterbo. It is surrounded by the Monti Cimini and Monti Volsini. The historic center of the city is surrounded by medieval walls, still intact, built during the 11th and 12th centuries. Entrance to the walled center of the city is through ancient gates. Viterbo's historic center is one of the best preserved medieval towns of central Italy. Many of the older buildings (particularly churches) are built on top of ancient ruins, recognizable by their large stones. Viterbo is unique in Italy for its concentration of 'profferli', external staircases that were a frequent feature of medieval houses.
Continue reading...
From Wikipedia, the free encyclopedia
Plan your perfect trip to Italy!
Easily create an itinerary based on your preferences: Where to visit? For how long? What to do there?
Plan your trip
Top destinations in the Lazio region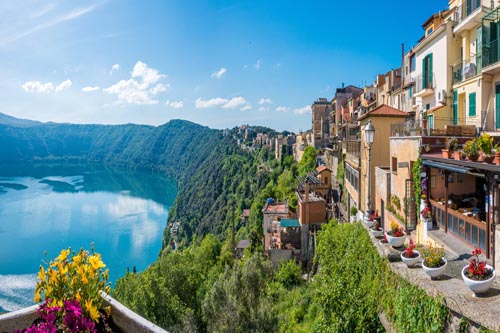 Rome