Nestled amidst beautiful mountains, this historic town is full of old buildings and serves as a great base for outdoor activities.
Brig is a picturesque small town in Upper Valais, situated at the foot of the northern slope of the Simplon Pass, on the right bank of the Saltine stream, and slightly above its junction with the Rhone. Brig is located close to the Swiss-Italian borders. Brig is popular among winter sport athletes, as it is surrounded by many Alp summits. Due to the high altitude, the temperatures in winter often remain below zero, but during the summer season, heat can be intense. The Stockalperpalast, the Gamsenmauer and the Church of Mariä Himmelfahrt withossuary are listed as Swiss heritage sites of national significance. The entire old town of Brig is part of the Inventory of Swiss Heritage Sites.
Continue reading...
From Wikipedia, the free encyclopedia
Plan your perfect trip to Switzerland!
Easily create an itinerary based on your preferences: Where to visit? For how long? What to do there?
Plan your trip
Top destinations in the Valais region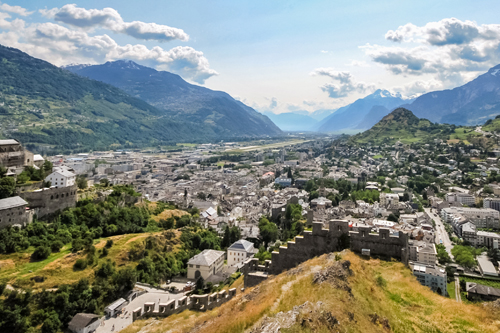 Sion