Active
Nature
Particularly popular with lovers of outdoor activities, this resort town affords great skiing, hiking, mountaineering, and more.
The Champery – Planachaux cable-car and the 6 seater chairlift in Grand-Paradis takes skiers to the Portes du Soleil recreational area. With 194 ski lifts and over 650 km (400 mi) of ski slopes, this is the largest international ski area in the world. The Portes du Soleil recreational area keeps 24 chairlifts open for the summer, giving access to over 600 km of paths. The Dents du Midi and the Dents Blanches mountain ridges also offer walks and hikes. Champéry's Palladium, the National Centre for Ice Sports, offers indoor and outdoor activities and regularly hosts national and international ice-sports training camps and competitions.
Continue reading...
From Wikipedia, the free encyclopedia
Plan your perfect trip to Switzerland!
Easily create an itinerary based on your preferences: Where to visit? For how long? What to do there?
Plan your trip
Top destinations in the Valais region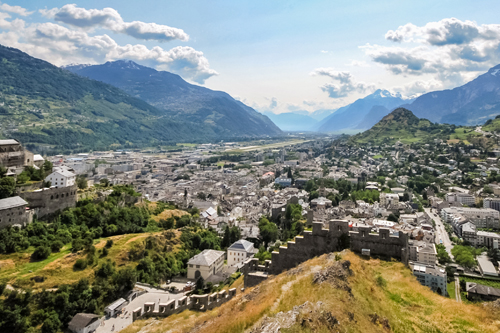 Sion