A holiday resort town set on the shores of a beautiful lake. Perfect for beach holidays in summer and ski breaks in winter.
Champex (also Champex-Lac) is a village located in the French-speaking Swiss canton of Valais, part of the municipality of Orsières. The village lies at 1,470 metres on the shore of Lac de Champex, at the foot of the Mont Blanc Massif. It is a starting point for many hikes into the surrounding mountains and huts (La Breya, Cabane du Trient, Le Catogne). Champex is also a small ski resort. The Champex Pass is located a few hundred metres west of Champex.
Continue reading...
From Wikipedia, the free encyclopedia
Plan your perfect trip to Switzerland!
Easily create an itinerary based on your preferences: Where to visit? For how long? What to do there?
Plan your trip
Top destinations in the Valais region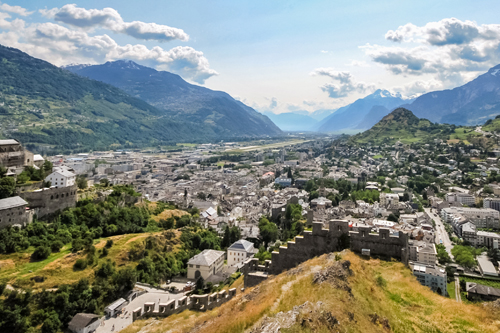 Sion