A mountain spa town whose waters are believed to treat a number of ailments, offering great hiking and natural attractions nearby.
The Gemmi Daubenwand is listed as a Swiss heritage site of national significance. The Gemmi Pass is accessible by the cable-car. From the pass, there is a magnificent view of the Alps. Known in summer for its hiking trails, it is enjoyed by families because of the small beautiful lake Daubensee. In winter, Daubensee is ideal a variety of winter sports and hikes. The cablecar to Torrent Alp goes to the Rinderhutte. In winter it is a paradise of skiers who have 50 km of runs. In summer it offers a network of hiking and mountain bike trails. The panoramic views from the Rinderhütte are breath taking. Leukerbad is also home to famous Thermal Baths, whose history dates back to the Roman times.
Continue reading...
From Wikipedia, the free encyclopedia
Plan your perfect trip to Switzerland!
Easily create an itinerary based on your preferences: Where to visit? For how long? What to do there?
Plan your trip
Top destinations in the Valais region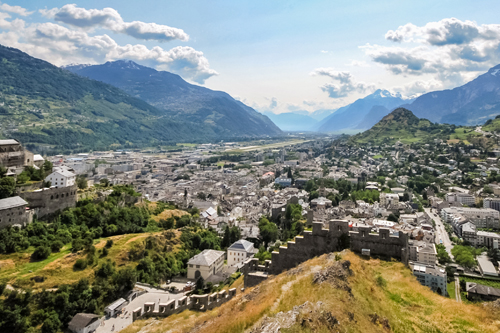 Sion