Situated on a junction between Italy, France, and Switzerland, this picturesque town boasts superb outdoors and a few historic sites.
Martigny lies at a junction of roads joining Italy, France and Switzerland. In winter, Martigny is boasts numerous nearby Alp ski resorts. The Centre valaisan du film, La Bâtiaz Castle, the 3 museums, and the Roman era city are listed as Swiss heritage site of national significance. The entire town of Martigny-Ville and the town of Martigny-Bourg are part of the Inventory of Swiss Heritage Sites. The Romans left many archaeological remains, and the city is known for its amphitheater. Cow fights are held in the amphitheater during early autumn. The city is notable for its Pierre Gianadda Foundation museum, the most important cultural attraction in Martigny, as well as The Earth Science Museum.
Continue reading...
From Wikipedia, the free encyclopedia
Plan your perfect trip to Switzerland!
Easily create an itinerary based on your preferences: Where to visit? For how long? What to do there?
Plan your trip
Top destinations in the Valais region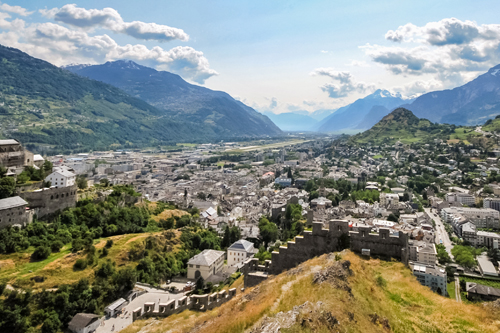 Sion