Set near two glaciers, this resort village offers excellent skiing, snowboarding, and hiking, as well as an array of fun activities.
Its location close to glaciers provides winter sport opportunities throughout the year, and neighbouring peaks are popular climbs in the summer season. Saas Fee is considered to be a very attractive winter sport destination in the Swiss Alps. Typical activities include skiing, carving, snowshoe trekking, canyon climbing and ice climbing, snowboarding, paragliding, hang gliding, and tobogganing. Saas-Fee can be reached by car or bus. No cars are allowed to enter the city; only small electric vehicles operate on the streets. The resort offers many culture, sports and off-slope activities, including classical music, a sports and leisure complex, restaurants, and nightclubs.
Continue reading...
From Wikipedia, the free encyclopedia
Plan your perfect trip to Switzerland!
Easily create an itinerary based on your preferences: Where to visit? For how long? What to do there?
Plan your trip
Top destinations in the Valais region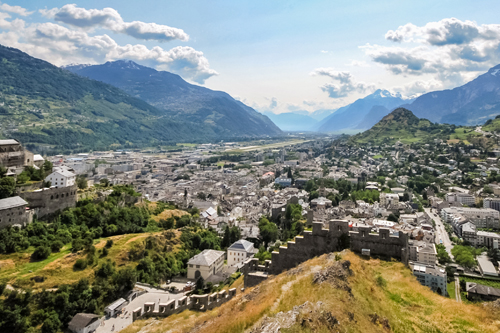 Sion