Filled with historic and cultural heritage, this small city rests on the River Rhone and boasts many interesting landmarks.
Saint-Maurice is a municipality and district capital of the district of Saint-Maurice in the canton of Valais in Switzerland. It is the site of the Roman outpost of Agaunum and the mediaeval St. Maurice's Abbey, which has become a famous high school in Switzerland. St-Maurice D'Agaune Abbey, Saint-Maurice Castle with the Cantonal Military Museum, Maison de la Pierre and the Bridge over the Rhône (shared with Bex, Vaud) are listed as Swiss heritage site of national significance. The entire Saint-Maurice castle and city area are part of the Inventory of Swiss Heritage Sites.
Continue reading...
From Wikipedia, the free encyclopedia
Plan your perfect trip to Switzerland!
Easily create an itinerary based on your preferences: Where to visit? For how long? What to do there?
Plan your trip
Top destinations in the Valais region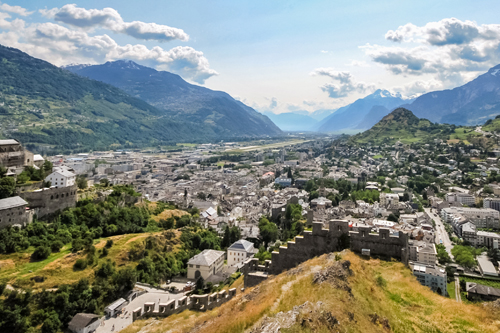 Sion