Charming and lively, this quaint village rests on the slopes of the Swiss Alps, offering superb skiing and hiking opportunities.
It is a holiday resort and ski area in the Swiss Alps and is recognized as one of the premiere "off-piste" resorts in the world. Some areas are covered with snow all year. Verbier is known for its off-piste and itinerary ski runs. In the summer there are lots of hiking trails and hikers can trek through the mountains, some of them covered with snow all year round. Other activities include climbing, paragliding, swimming, golf, badminton, Ice karting, mountain biking, trips aboard the mountain railways in the area, and an annual music festival.
Continue reading...
From Wikipedia, the free encyclopedia
Plan your perfect trip to Switzerland!
Easily create an itinerary based on your preferences: Where to visit? For how long? What to do there?
Plan your trip
Top destinations in the Valais region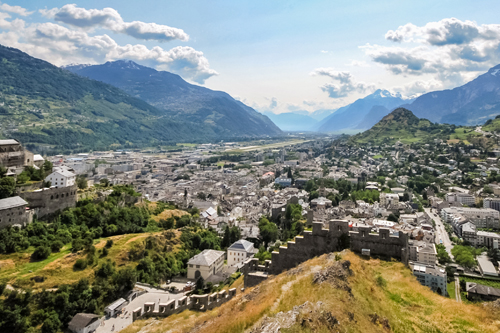 Sion