One of the best Alpine towns in Switzerland, this popular resort offers great skiing, hiking, mountaineering, and splendid landscapes.
Zermatt is famed as a mountaineering and ski resort of the Swiss Alps. Until the mid-19th century, it was predominantly an agricultural community; the first and tragic ascent of the Matterhorn in 1865 was followed by a rush on the mountains surrounding the village, leading to the construction of many tourist facilities. Much of the local economy is based on tourism, with about half of the jobs in town in hotels or restaurants and just under half of all apartments are vacation apartments. The petroglyphs and prehistoric grinding stone at Hubelwang is listed as a Swiss heritage site of national significance..
Continue reading...
From Wikipedia, the free encyclopedia
Plan your perfect trip to Switzerland!
Easily create an itinerary based on your preferences: Where to visit? For how long? What to do there?
Plan your trip
Top destinations in the Valais region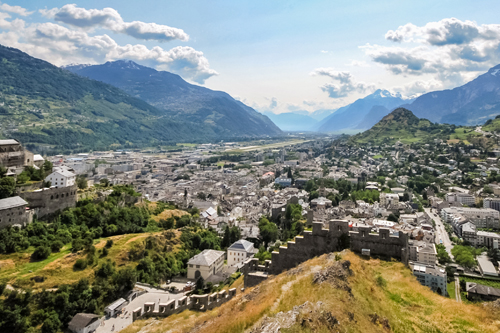 Sion