Home to a number of historic sites, this ancient city has been known for its fruit productivity, especially figs, for millenia.
Aydin is a city in and the seat of Aydin Province in Turkey's Aegean Region. The city is located at the heart of the lower valley of Buyuk Menderes River at a commanding position for the region extending from the uplands of the valley down to the seacoast. Figs remain the province's best-known crop, although other agricultural products are also grown intensively. The province of Aydın is also where a number of internationally known historic sites and centers of tourism are concentrated. The city's main attractions include the Aydin Museum, the Ottoman period mosques of Ramazan Pasa, Suleyman Pasa and Cihanoglu, the Byzantine fortifications, and the Roman ruins of Tralles located nearby.
Continue reading...
From Wikipedia, the free encyclopedia
Plan your perfect trip to Turkey!
Easily create an itinerary based on your preferences: Where to visit? For how long? What to do there?
Plan your trip
Top destinations in the Aegean region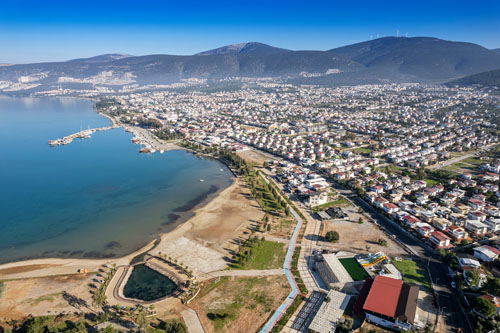 Didim