A favorite summer retreat for many travelers, this village is a lively destination graced with gorgeous beaches, shops, and cafes.
Bitez is a town in Mugla Province, Turkey. It is situated in Bodrum Peninsula and is almost merged with Bodrum, which is only 4km east of Bitez. It is a coastal town and a popular summer resort. The settled population of Bitez is 8,155, but during the summer months the population is much higher. The climate in Bitez is suitable for all Mediterranean agricultural crops like olive, citrus, tobacco etc. In the past fishing was also a part of the town economy. But at the present, the main economic activity is tourism. There are many hotels and restaurants in addition to blue flag beaches in Bitez which are mainly active during summers.
Continue reading...
From Wikipedia, the free encyclopedia
Plan your perfect trip to Turkey!
Easily create an itinerary based on your preferences: Where to visit? For how long? What to do there?
Plan your trip
Top destinations in the Aegean region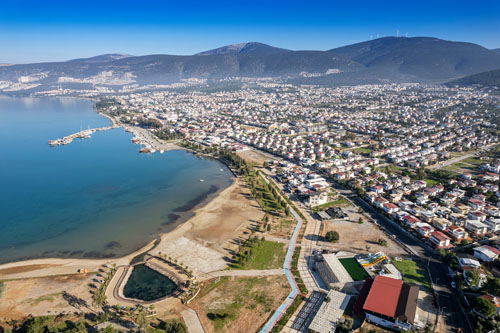 Didim