A wonderful little town not far from the popular Fethiye, Dalyan is known for its gorgeous nearby beaches and a mellow ambiance.
Dalyan is a town in Mugla Province located on the southwest coast of Turkey. Life in Dalyan revolves around the Dalyan Cayi River which flows past the town. The boats that ply up and down the river, navigating the maze of reeds, are the preferred means of transport to all the local sites. Above the river's sheer cliffs are the weathered facades of Lycian tombs cut from rock, circa 400 BC. The ruins of the ancient trading city of Kaunos are a short boat trip across the river. The south of Dalyan on the Mediterranean coast, lies Iztuzu Beach, near the village of the same name is a popular area for sunbathing and swimming.
Continue reading...
From Wikipedia, the free encyclopedia
Plan your perfect trip to Turkey!
Easily create an itinerary based on your preferences: Where to visit? For how long? What to do there?
Plan your trip
Top destinations in the Aegean region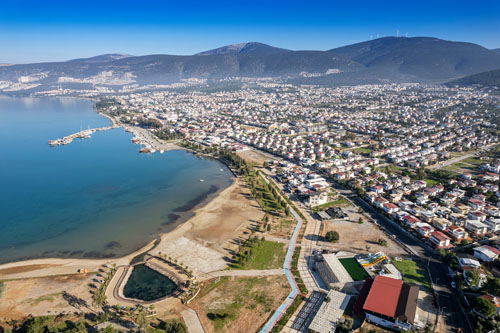 Didim