Little visited by travelers, this city is a regional transportation center, offering some lovely restaurants and a nice center.
Denizli is a growing industrial city in the southwestern part of Turkey and the eastern end of the alluvial valley formed by the river Buyuk Mendere. Denizli attracts many visitors to the nearby mineral-coated hillside hot spring of Pamukkale, and with red color thermal water spa hotels Karahayit, just 5km north of Pamukkale. Recently, Denizli becomes a major domestic tourism destination due to the various types of thermal waters. Nearby archaeological sites include the ancient ruined city of Hierapolis, as well as ruins of the city of Laodicea on the Lycus, the ancient metropolis of Phrygia. Another attraction that may draw interest is the Ataturk and Ethnography Museum.
Continue reading...
From Wikipedia, the free encyclopedia
Plan your perfect trip to Turkey!
Easily create an itinerary based on your preferences: Where to visit? For how long? What to do there?
Plan your trip
Top destinations in the Aegean region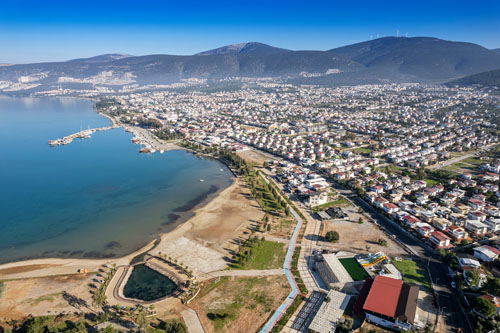 Didim