Beaches
Historic Places
Night Life
Culture
A popular sea-side resort town, Didim is known for its beautiful beaches, as well as its ancient ruins.
Didim is a small town, popular seaside holiday resort, and district of Aydin Province on the Aegean coast of western Turkey, as well as the site of the antique city of Didyma with its ruined Temple of Apollo. This coast has become a very popular holiday resort, known for its long sandy beaches, clear blue sea, ancient ruins, and its own microclimate, benefiting from hundreds of days of sun annually. Didim has a weekly market, a waterpark, a number of discothèques, smaller bars, and clubs, some with live music. It is also close to a number of other ancient towns and natural formations, such as Lake Bafa national park, the Buyuk Menderes River, and historic sites like Miletus and Priene.
Continue reading...
From Wikipedia, the free encyclopedia
Plan your perfect trip to Turkey!
Easily create an itinerary based on your preferences: Where to visit? For how long? What to do there?
Plan your trip
Top destinations in the Aegean region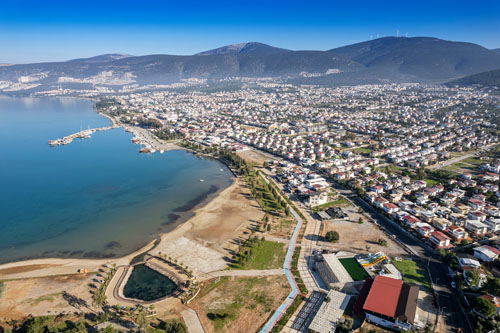 Didim