A small off the beaten path coastal city, where visitors can enjoy exploring ancient sites and relaxing on the idyllic beaches.
Dikili is a coastal town and a district of Izmir Province in the Aegean Region of Turkey. The district is quite picturesque both along its shoreline and in its interior parts, and is a popular summer resort. There is a crater lake in Merdivenli village, and ancient caverns in Demirtas and Deliktas villages, as well as pine forests extending towards the Madra Stream. There are thermal springs, which are in Nebiler, Bademli and Kocaoba villages. There are also beaches in Bademli and Denizkoy. The Merkez Mosque is a rare example of a wooden construction dating from 1789. It was built without using any nails in the construction.
Continue reading...
From Wikipedia, the free encyclopedia
Plan your perfect trip to Turkey!
Easily create an itinerary based on your preferences: Where to visit? For how long? What to do there?
Plan your trip
Top destinations in the Aegean region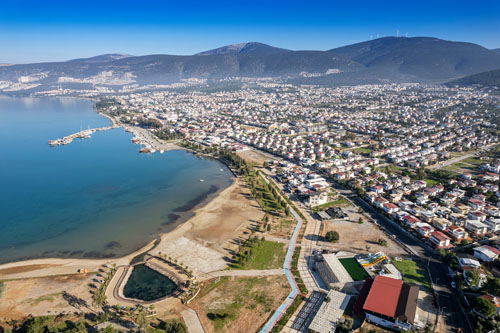 Didim