A resort town known for its rugged bay, lovely harbor, and popular beaches, as well as its lively atmosphere and great night life.
Marmaris is a port town and tourist resort on the Mediterranean coast, located in Muğla Province, southwest Turkey, along the shoreline of the Turkish Riviera. Marmaris' main source of income is tourism. It has an exceptional location between two intersecting sets of mountains by the sea, though following a construction boom in the 1980s, little is left of the sleepy fishing village that Marmaris was until the late 20th century. It is also a center for sailing and diving, possessing two major and several smaller marinas. When visiting be sure not to miss the Marmaris Castle and Museum, the Grand Bazaar, the Dancing Fountains, and the Atlantis Waterpark.
Continue reading...
From Wikipedia, the free encyclopedia
Plan your perfect trip to Turkey!
Easily create an itinerary based on your preferences: Where to visit? For how long? What to do there?
Plan your trip
Top destinations in the Aegean region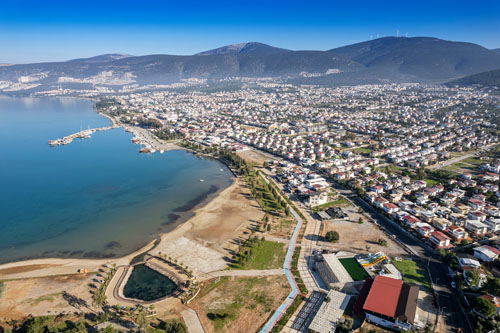 Didim