A quiet coastal town, home to small hotels, villas, pubs, and eateries, and with an easy access to the blue lagoon of Oludeniz.
Ovacik is a small village in the Fethiye district, Mugla Province, Turkey. It is located next to the holiday resort of Hisaronu, consisting mainly of small hotels and private villas. In the village are located several small restaurants and bars catering to the people who prefer a quieter evening out than the hustle and bustle of Hisaronu. The village is set on a small plateau at the foot of Babadag (Turkish: father mountain), a favorite spot for European paragliders. Oludeniz, the famous blue lagoon, and Belcekiz beach are all within ten minutes reach.
Continue reading...
From Wikipedia, the free encyclopedia
Plan your perfect trip to Turkey!
Easily create an itinerary based on your preferences: Where to visit? For how long? What to do there?
Plan your trip
Top destinations in the Aegean region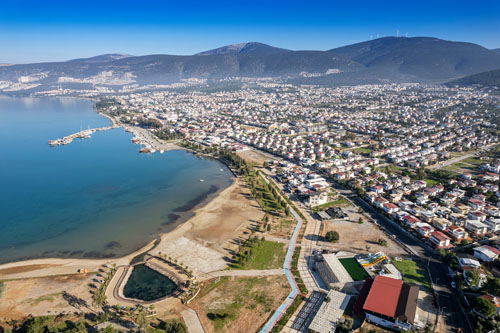 Didim