A city famous for its archaeological sites and unique natural attractions, including hot springs and mineral water terraces.
Pamukkale, meaning "cotton castle" in Turkish, is a natural site in Denizli Province in southwestern Turkey. The city contains hot springs and travertines, terraces of carbonate minerals left by the flowing water. It is located in Turkey's Inner Aegean region, in the River Menderes valley, which has a temperate climate for most of the year. Tourism is and has been a major industry. People have bathed in its pools for thousands of years. When the area was declared a World Heritage Site, the hotels on the site were demolished and the road leading here removed and replaced with artificial pools. Wearing shoes in the water is prohibited to protect the deposits.
Continue reading...
From Wikipedia, the free encyclopedia
Plan your perfect trip to Turkey!
Easily create an itinerary based on your preferences: Where to visit? For how long? What to do there?
Plan your trip
Top destinations in the Aegean region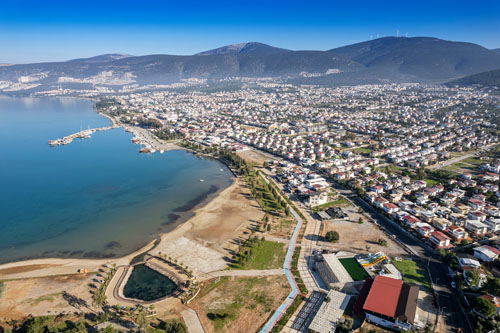 Didim