Recognized as one of the best towns on the Turkish Riviera, Turkbuku is famed for posh pubs, great ambiance, and a peaceful harbor.
Turkbuku is a coastal town in Mugla Province in southwestern Turkey, located on the Turkish Riviera on the opposite side of the Bodrum peninsula from the town of Bodrum. Turkbuku has a well protected harbor ringed with high hills containing a number of luxury hotels and holiday villas. The town is a favorite vacation spot and second home residency of upper-class Turks and although less well visited by Western European tourists compared to Bodrum, also increasingly popular with foreign visitors. There are no broad sandy beaches in Turkbuku, but there is a semi-circular boardwalk dense with shops, restaurants, bars and docks for sunbathing in the day and dining in the evening.
Continue reading...
From Wikipedia, the free encyclopedia
Plan your perfect trip to Turkey!
Easily create an itinerary based on your preferences: Where to visit? For how long? What to do there?
Plan your trip
Top destinations in the Aegean region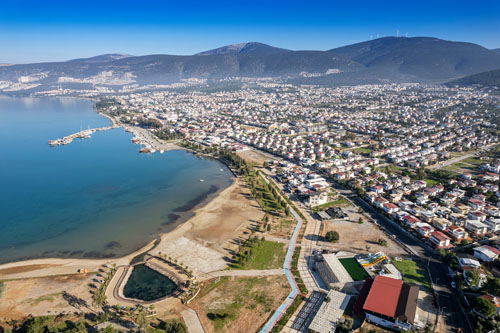 Didim